Retail Only: Other Side Anthology (Print) 5 Copy Bulk Bundle
$

50.00
Coming soon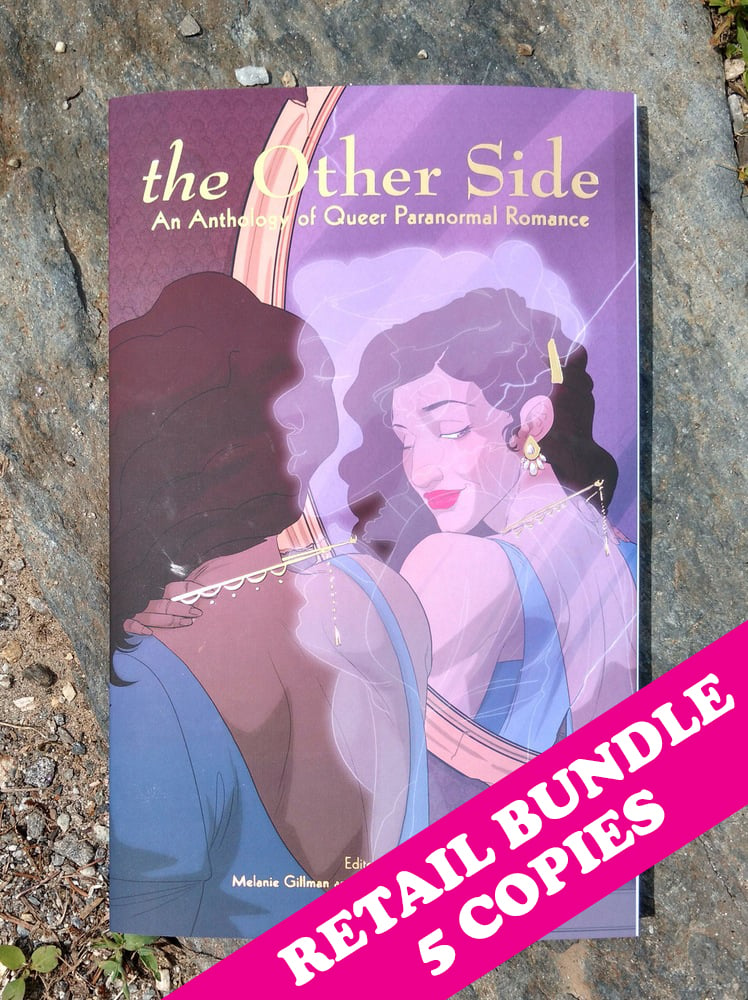 ATTN: This book is not available at the time. Sorry for the inconvenience.
--
If you represent or stock a comic shop, book store, or other retail vendor and are interested in stocking copies of The Other Side, this listing is for you.
Includes a bundle of 5 print copies of The Other Side Anthology at 50% off of the cover price. We will confirm that the order is for a valid retailer before fulfilling the order. You can email us at othersideanthology@gmail.com if you have any questions or clarifications.
This is only available for United States shipping destinations at this time.
-----
Featuring 19 comics by 23 different creators, THE OTHER SIDE is a celebration of queer romance and the paranormal! Inside, you'll find positive romance stories featuring a wide variety of queer and trans protagonists -- as well as poltergeists, shadow monsters, guitar-playing hypnotists, lost angels, genderfluid vampires, trickster ghosts, and many more!
Softcover, black-and-white interior printing, color cover stamped with gold foil, 208 pages.
Edited by Melanie Gillman and Kori Michele Handwerker.
NOT IN STOCK. Sorry for the inconvenience.
View more photos of the book here!
Read more about the book's creation here!
THE OTHER SIDE features the talents of: Kou Chen, Mari Costa, Natasha Donovan, Melanie Gillman, Kori Michele Handwerker, Gisele Jobateh, Margaret Kirchner, Hannah Krieger, F. Lee, Kate Leth, Mildred Louis, Sfé R. Monster, Katie O'Neill, Amelia Onorato, Aatmaja Pandya, Fyodor Pavlov, Bitmap Prager, Ezra Rose, Britt Sabo, Bishakh K. Som, Sarah W. Searle, Laurel Varian, Mary Verhoeven, and CB Webb.